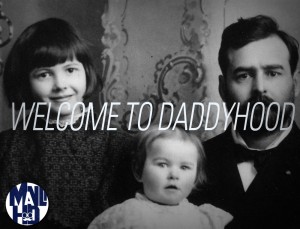 Fatherhood is one of those things that scares the living pants off many a young man. It's really nothing to be afraid of – and yet it's nothing to take lightly.
If I were to give advice to any dad, it's to be present. Your children, from newborns to adults need their father's to be present in their lives.
Even during those teen years when they act like you are the great satan – they need you to be present. In fact – I say especially during this time in their lives!
In today's economy, it's easy to be the dad that has to work overtime, or take a second job. It's easy to get so busy working to provide for our family that we neglect them! What if we simplified our budgets, so that we lived within our means – and didn't need to work so much?
(WHAT? DID HE JUST SAY THAT?  Yes. I did.)
The truth is – our kids need our presence. They need to know we are here. If our job is to set an example for them – they need to actually see us live our lives – see how we react in situations – and experience life with us.
Your kids don't deserve an ipad, or a new car, or whatever thing you want to give them – what they deserve is a dad who loves them and spends time with them.
I know that not every family is a clean-cut nuclear Mom and Dad at home situation – but I think ever father needs to do whatever he can to be present in the lives of his kids. If you are in a situation where you have not been – fight for it. Don't give up till you get it. Don't be a jerk about it – don't "fight" mom – but "fight" whatever things tell you to just give up. Send cards, make phone calls, pay your support, and do whatever you can to be present in the lives of your children.
If you haven't been living this way – it's never too late to make a change. Let me encourage you to reach out to your kids – and carve out some time to show them love.
Tune in Next Week, for Welcome To Daddyhood: Be Involved
Don't Miss Out! Subscribe today to make sure you get these emails in your inbox!