Hello guys! I hope everyone is having an incredible day.
I didn't want you to miss this opportunity for a free book – and would really appreciate it if you could get this book even if you dont plan to read it for a while or whatever reason.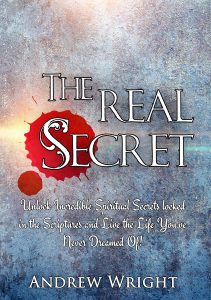 If you havent taken advantage of this free deal – please do so and share it with as many people as possible.  I would love for everyone to get this for free before it goes on sale online on the 23rd.
Why "the REAL secret?"
Simple.  
I am personally fed up with "new age" philosophy copying Jesus and stealing/tricking/slandering the real truth from a mass majority of people.
The premise from the best seller, "the Secret" is that you can ask the UNIVERSE for manifestation through the Law of Attraction.
Is that all wrong?  Perhaps the concept is not? 
But the beneficiaries are completely different.  
The world didnt make itself – God did.  
Why thank God's creation when you have an open door to speak to God and ask him for his goodness?
Well, because God might not grant it – WRONG!  He said he would – but of course critics already knew that, right?
It is time to come back to the REAL source!  GOD!  My hearts desire is for the Lord to be magnified!  For him to get the rightful praise and honor he deserves – one fit for a king!
Jesus is more than capable to give you your hearts desires.  God is so much bigger than what you are asking for.  
Ask – Believe and RECEIVE it through the REAL source – the REAL secret – God himself! 
Learn what the HOLY scriptures have to say.
Claim them for you – because the message was for all!
Realize – What Jesus did before – he will do again and again.
God isn't a liar – he is waiting for you to claim your rightful inheritance!
Download the free copy of the book by clicking on the book cover – you will be glad that you did!
My best
Andrew Wright
andrewwrightguru@gmail.com