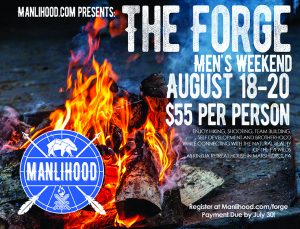 Join us for THE FORGE: Men's Weekend August 18-20th in the heart of the PA Wilds in McKean County Pennsylvania!
It's time to us men to fan the flames, and shape our lives to be stronger, bolder, wiser, and better connected with a brotherhood of men.
We'll be staying at the Kinzua Retreat Center in the Allegany National Forest, we'll eat great food, engage in some team building activities.
You can expect:
Fun Campfires
Powerful Conversations
Engaging Workshops
A Rustic and Beautiful Place to Stay
Breathtaking Views of Nature
The Start of Life Changing Friendships
For only $55
FIND OUT MORE ABOUT THE FORGE MEN'S WEEKEND!