Ask A Man is our weekly Advice Column, where we'll collect your questions, and get responses from other coaches, counselors, experts, and guys like you.
Headstrong: How to be mentally strong | Manlihood ManCast with Josh Hatcher : a podcast for men
–
Manlihood ManCast
In this episode of the Manlihood ManCast, Josh Hatcher talks about the building the muscle of your mind. We hear a lot of talk about physical exercise and strength building. Which is good! But we need to talk about building up the mind, too. Garbage In / Garbage Out What we consume affects what we produce. Doing reps We need to use affirmations to build up and tone muscle. Repeat truth to yourself until you believe it. Powerlifting If you want to be headstrong, it takes time. You've got to keep working it over time. I can guarantee you, you are already stronger than you think you are. Discipline equals freedom. We think of discipline as uncomfortable – but you've got to TRAIN your brain how to think. It literally rewrites your brain chemistry! (Look up Dr. Caroline Leaf's research on this!)  If you build healthy habits in the way you think, it really does set you free. But it takes discipline! ———– Get REIGNITE:  A MAN'S FIELD GUIDE TO TAKING BACK HIS LIFE https://www.manlihood.com/reignite/ Join the ManCave Today:  http://facebook.com/groups/manlihoodmancave —————- Do you have a question you'd like to have answered on The Manlihood ManCast? Send it to us here: https://manlihood.com/ask-a-man ————— VISIT THE MANLIHOOD STORE FOR RESOURCES, APPAREL, AND MORE! https://manlihood.com/store More from Manlihood: https://manlihood.com More from Josh Hatcher: http://joshhatcher.com ————– Don't forget to check out our sponsors / partners / affiliates: GET A FREE STOCK FOR JOINING ROBINHOOD – https://join.robinhood.com/joshh826 Death to Tyrants Apparel – http://deathtotyrantsapparel.com Hatcher Media – http://hatchermedia.net   Honky EDC – http://honkyedc.com Out of Your Shell Poetry – http://outofyourshellpoetry.com — Send in a voice message: https://anchor.fm/manlihood/message Support this podcast: https://anchor.fm/manlihood/support


If you've got a question, you can submit it here.

This week's question:
I'm 17. I'm about to become a man. Sometimes I feel like I already am one. But I guess I know I'm not yet. What do I need to know about being a man? What's your best advice for me as I turn the corner?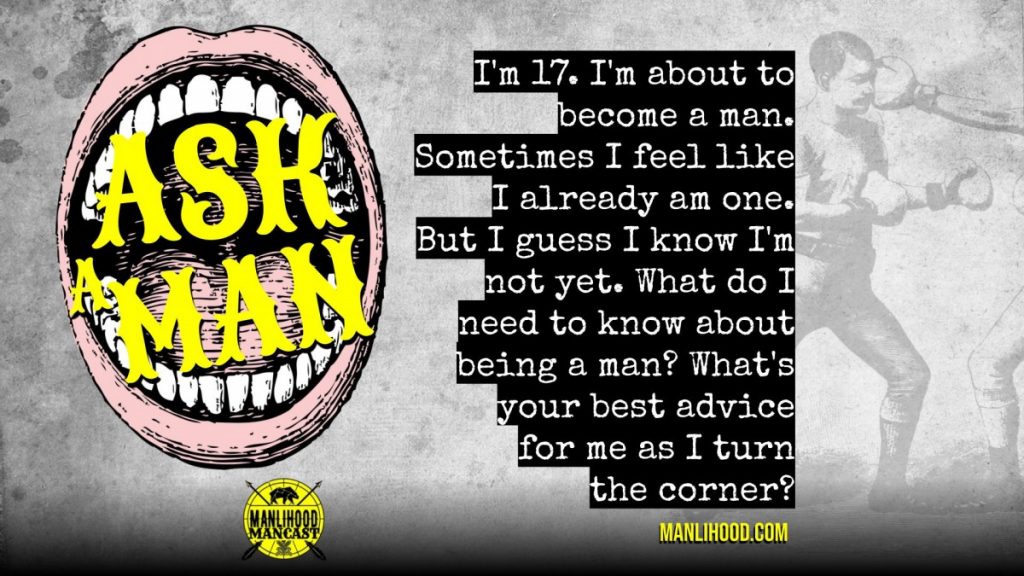 And our answers come from the following contributors: