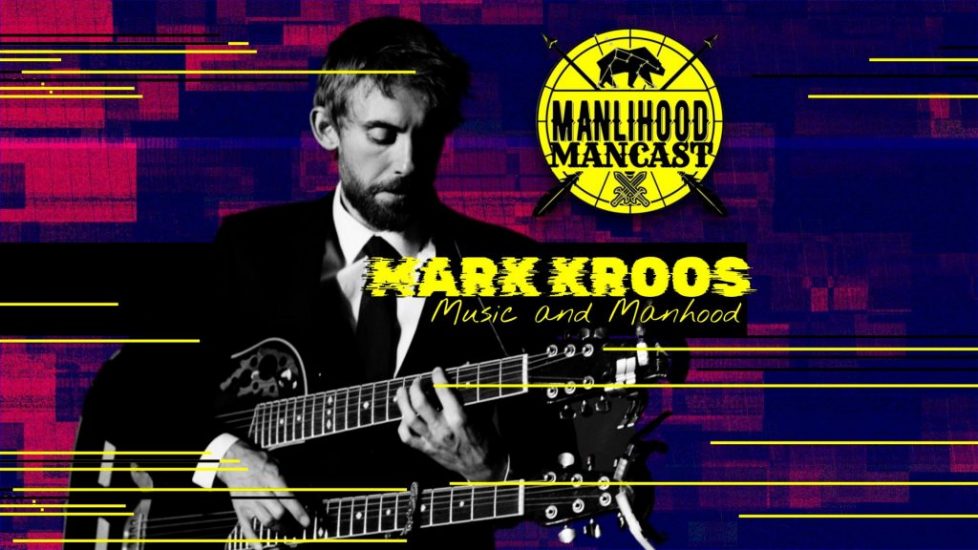 Coming Soon! The Arrows and Iron Brotherhood! SIGN UP HERE to find out more!
Acoustic Guitarist Mark Kroos is a phenomenal musician, and a great example for men to follow
"Mark Kroos is one of the most intelligent musical forces of the new guitar generation."
– Randall Williams

In this conversation with Mark Kroos on the Manlihood ManCast, we talk about his music, the challenges of life on the road, overcoming adversity, and more.
Double-Neck Guitarist
Mark Kroos plays an Ovation guitar with two necks at the same time. His shows are energetic, magnetic, and Mark's personality is as welcoming as his playing is spectacular.

In 2011, Mark competed in Guitar Player Magazine's International Guitar Superstar Competition in Nashville for host Larry Carlton and renowned judges Muriel Anderson, Reeves Gabrels and Carl Verheyen, taking 1st place out of 5 invited competitors and thousands of others who had submitted online.


"Mark Kroos plays with a sensitivity to the music and positive energy that is truly refreshing."
1989 International Fingerstyle Guitar Champion

Mark has since shared the stage with guitarists Mike Stern, Lee Ritenour, Phil Keaggy and Stanley Jordan among others during his past 8 years of touring through the US and Canada. He has also picked up full sponsorships with D'Addario Strings, Planet Waves Cables, Genz Benz Amplifiers, Ovation Guitars, Kopf Percussion and Kyser Capos.
Facing hardship "like a man"
In this episode of the Manlihood ManCast, one of the things that Mark talks about is the things he learned when covid shut down his ability to tour with his music. That experience deeply affected the way he processes things as a man.

I see a guy on the street, and I think, 'that dude has his act together!' But I've had a lot of really great moments over the past few years and realizing that, nobody has their act together. It feels really freeing and incredible to see that.

We try to appear hard, walking with our shoulder back, and chests out, and so much of this work over the past year has been about softening, and not taking myself so seriously. Because I really felt for a long time my guitar career was the most important thing in the world to me. Then I saw the world without my guitar career. The world was doing just fine.

More from Mark Kroos
Website | http://markkroos.com
Youtube | https://www.youtube.com/user/mskroos
Instagram | http://instagram.com/markkroos
Bandcamp | https://markkroos.bandcamp.com/
iTunes | https://itunes.com/markkroos
Spotify | https://open.spotify.com/artist/2pOLYuxb1wwCu8bmXyhhEb?si=fJoPdAMOTlOSUmZZ4wO8JQ
Facebook | https://www.facebook.com/markkroos
Twitter | https://twitter.com/markkroos
TikTok | https://www.tiktok.com/@markkroos