Men (and women)
I write to you on this blog and through my books as a form of communication.  My communication is simple and direct.  In addition, it is filled with personal experiences.
Perhaps I should give you a brief history of myself.
I am hard of hearing and communication is very difficult for me.  I wear a hearing aid (that unfortunately only works half the time if I am facing people.)  Over the last 20 years, I lost some 70% of my hearing abilities through natural causes and will tell you it has only made my life better!  Thats right, it made it better.  I have come to realize my purpose on this earth is to give people hope and to provide information to better improve THEIR lives through my struggles.
I have put out several books on self esteem – and most recently, "How to Talk to Anyone" – the advice is my own.  I provide you useful tips and tricks to make you FLOURISH in society because you have all your senses.  My tricks are not for someone with a disability – but battle tested in the battlefield of life.  As you know, it doesnt matter if you have everything or little – this world and society could care a less if you succeed.  There are no gimmie points shelled out to me because I am hard of hearing – just sets me back as an obstacle.
So – I ask you to read these books and know this knowledge and wisdom comes from years in the field of life.  Learn them – utilize the techniques and you will succeed.  I can tell you they work!  I am a successful salesman and found the women of my dreams.  I have three amazing kids and more self confidence than I could have ever dreamed I would have.
You can have it and so much more, folks!  Read the books and apply to your life.  You will see a drastic change.
Kindest regards,
Andrew Wright
SELF -ESTEEM – 10 Things You Can Do to DRASTICALLY Improve Your Confidence and Love Yourself
Available on Amazon for only 99c!!!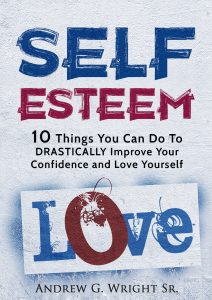 How to Talk to Anyone
Available for only 99c!!!