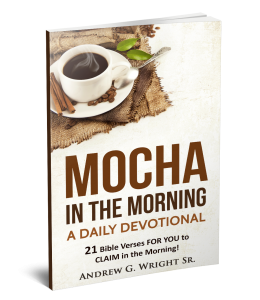 Good afternoon guys!  I just released another book called, "Mocha In The Morning."
I am really excited about this book because its a 21 day journey geared to help you grow in faith in Jesus, and to hopefully help my readers to understand that there is POWER when your on the right team – team Jesus.
In addition, I have made all my books available for only 99c via Amazon Kindle.
You can view the book topics, titles and links through my personal page (just so I dont have to link every single one of them).
I hope you take advantage and I look forward to hearing your feedback
Here is the link
http://andrewwrightguru.wix.com/lifechange#!books/nue4c