Manhood is often assumed in our culture. Rites of passage once held sacred, have been replaced by the wrong things. It's time that we reset our cleats on the track of manhood, and start the race right. This month, we're examining what it means to be a man, and to run the race of manhood.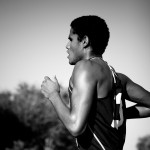 If we're looking at the start of the race – it may be too late for many of us. We may or may not have had a defining moment, when our father passed along his mantle, or the elders bestowed the title of man on us. Chances are, we just grew up, moved out, and assumed we were men. Without fanfare, and quite possibly, without any idea of what it really means to be one.

We may in fact, BE men, but I think it's important to note that identifying as a man, and BEING a man are not the same thing. You may be lacking in honor, in work ethic, in integrity, in strength, in confidence. These things don't exempt you from manhood, but I think they are identifiers that we have a hurdle we must jump over.

If we want to START the race – we need to make the choice, and just do it This is our starting pistol, and we are going to start running.

Let's evaluate our lives, asking the hard questions, and demanding answers of ourselves. Let's make a choice to tackle those issues, and rise up to the challenge set before us.
Declare it with me – TODAY – AND FROM THIS DAY FORWARD. I WILL BE A MAN, IN THE FULLEST SENSE. I WILL NOT ALLOW MY EXCUSES AND MY SHORTCOMINGS TO DOMINATE MY LIFE. I WILL MAKE A DIFFERENCE FOR GOOD IN THE LIVES OF THOSE AROUND ME. I WILL NOT BOW TO THE PRESSURES AND TEMPTATIONS OF THIS LIFE. I WILL LIVE A LIFE OF HONOR, INTEGRITY, AND DISCIPLINE.