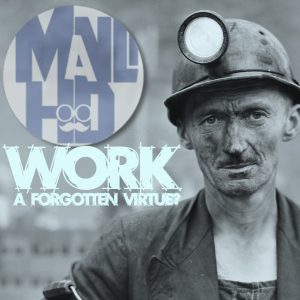 Work is a virtue. And perhaps it's one that has been forgotten. Certainly if we compare the attitudes of our grandfathers and great-grandfathers about work to the mindsets of our peers and our children, we'll see a degradation of the values that once defined hard working men.

Part of the reason that people hate their jobs and hate their work, and are not as productive as they should be – is that they don't make good use of their time outside of work. You may have to hustle and work two jobs from time to time – you may have a job that requires more overtime than you can handle – but you have to make time to rest.  You have to make time to breathe, stretch, connect with friends and family, recharge spiritually.
If you don't – then you'll resent your job for keeping you from it. (Misplaced resentment, at that!)
Get yourself in check, get a good night's sleep, and spend a little time once a week with the people and the things you love.

Tune in next week for Work: A Forgotten Virtue? – Asking for help vs Begging