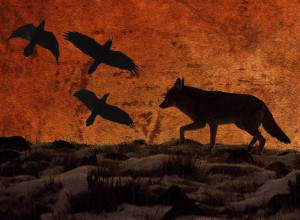 This guest post is from Rob Giebel, one of our Manlihood friends in Potter County, PA.
With four hours of sleep under my belt, I headed to town to meet up with my hunting buddy Justin for a coyote and crow hunt. It was a beautiful morning, the sun was shining and it was a fairly comfortable twenty degrees. This is warm compared to the cold temperatures we have been enduring throughout this brutal winter.
As we reached our chosen hunting spot, we could see a flock of crows fly overhead as we pulled in. We both felt that we were in for a good day. As we set out across the snowy field, I had a flash back to my childhood and the days when I was light enough to walk on top of the snow. I haven't been able to do that in many years, until today. The crust on the top layer of snow was enough to hold my weight, most of the time. The first time I broke through that top layer I was up to my knees in snow and it snapped me back to the present. Once we reached the wood line that we planned to take cover in, we quickly found a perfect spot to setup. There was a cluster of branches that seemed almost as if they were placed there by someone as a sort of natural blind. It even came equipped with a horizontal branch that was perfect as a shooting rest.
Once we got settled in, I turned on the cottontail in distress call and it's eery sound filled the air. We were ready for action. We waited, listened, and scanned the field for movement. We saw nothing. We continued to be patient as we hoped for a coyote or some crows to be attracted to our call, but they didn't show up. I enjoyed watching some chickadees chirping and fluttering throughout the branches just above my head as we continued to wait. Still, there was no sign of any of the game we had come looking for. Finally, as we we were just about to give up, we heard some crows off in the distance. We decided to sit a bit longer in hopes that they would hear the call and come to investigate. Another half an hour passed, and the crows sounded no closer to our location. We decided to bail out and try another spot.
From past experiences in archery, I had a bad feeling about this because we have left our stands early before and walked up on deer that were heading our way as we are leaving the woods. Despite my concerns, I didn't speak up and we headed to the truck. Just as we were loading our gear into the truck, the flock of crows flew out over the field, directly over the spot where the call had just been removed. Foiled again by our aggressive attempt to get on some quarry. A lesson learned, once again. Next time I'll be sure to go with my gut feeling and stick it out a bit longer.
The day wasn't a total loss by any means though. I got to spend the day with my best friend, in the outdoors, doing what I love. There is no substitute for time spent in the outdoors. It was a good day.
Rob Giebel is an avid Outdoorsman who spends his free time hunting and fishing the PA Wilds.