Men's Health is a serious matter
And today's guest has 25 years of experience as a doctor helping with men's issues.
He's performed thousands of surgeries and been a pioneer in surgical robotics. 
Affirm Science USE MANLIHOOD AT CHECKOUT FOR 10% OFF
Dr. Judson Brandeis is the guest on this episode of The Manlihood ManCast
Listen to Dr. Judson Brandeis on the Manlihood ManCast on Spotify | Apple Podcasts | Youtube or wherever you listen to podcasts.

We will have Dr. Judson Brandeis on the show again soon, as he has recently done some work on the cutting edge of men's sexual health that we want to be able to share with you!



From 2014 to 2020, his colleagues voted him as a Top Urologist in the San Francisco Bay Area, and he serves as Chief of Urology at John Muir Hospital and Hill Physicians for several years.
He attended Brown University, and got his MD at Vanderbilt. He's been awarded the Howard Hughes Award for his research at Harvard Medical School, and he completed his surgery/urology residency (six years!) at UCLA.
Now, in the second half of his career, Dr. Brandeis is committed to "Optimizing Manhood."

Helping men Feel Great, Look Good and Have Better Physical Intimacy so they can Leave a Legacy.
Dr. Brandeis' clinical research improved men's lives as he explores ways to better their sexual health, and overall physical health.
He stays on top of the latest treatments by attending Sexual Medicine and Urology meetings. He is the sirector of Sexual Medicine at The Aesthetic Show, and has written Sexual Medicine chapters for textbooks to educate other physicians as well.
What others are saying about Dr. Brandeis Book "The 21 Century Man"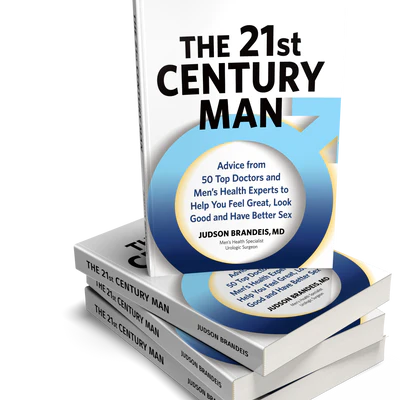 "This book is one-stop shopping for the man who wants to improve, maintain, and optimize his health." —Aaron Spitz, MD, Author of The Penis Book, Chair of AUA Telehealth Task Force, frequent guest on The Doctors
"Dr. Brandeis's text on men's health is a true tour de force. This will be valuable for all men over 40!" —Andrew Hecht, MD, Professor of Orthopedics and Neurosurgery, Chief of Spine Surgery, Mt Sinai Medical Center
"This comprehensive volume provides clear and concise coverage of all topics in men's health, from head to toe and every organ in between. His bite-sized summaries are direct, thoughtful, and incredibly useful in demystifying the structure and function of all the critical parts of the male body." —Mark S. Litwin, MD, MPH, Chairman of urology and professor of public health, UCLA
"The foundation of great, steamy sex is good health. All you need to know is in this book—practical, powerful and scientifically grounded information from leading authorities for satisfying sex that gets better with age." —Susan Bratton, Intimacy Expert, Author, Co-founder/CEO of Personal Life Media and The20
More from Dr. Judson Brandeis
Email | contact@brandeismd.com