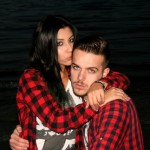 February – thanks to St. Valentine's Day – it's filled with hearts and doilies and talk of love.
Funny how love can turn a big, hairy man into a blubbering pile of conversation hearts and rose petals, right?

The truth is  – our idea of love has been sugar coated and painted up like Caitlin Jenner. It's hard to recognize the real thing, thanks to the way our culture has misrepresented it over the years.

This month, we'll explore what we need to strip away from our idea of love, so that we can be better men, by loving the people that are placed in our lives,

1. First of all – Love is not just romantic. In English – we have one word for love. You love pizza, you love The Black Keys, you love your dog, and you love your wife. If only we had the right words to describe what we actually did to each of these – but alas, we only have ONE word for love. This means we need to think about how we love things, and prioritize what kind of value they have,
Specifically, though, we're going to deal with romantic love, and what it ought to be. There are a number of things we should strip away, so that we can really get it.

2. Love does not equal sex.
We'll talk a little more about this next week, as we talk about love and emotion – but let's touch on it today. Love and sex may be tied very closely together – but they are not equal, and they are not entirely the same. Sex works best within the context of committed, permanent love. But don't think that all romantic love leads to sex or requires it And don't cheapen sex by using it without love. It removes the very core out ot sex, and reduces it to a biological function. It's like drinking O'Douls and calling it beer.

3. Break the chains.
The relationships that you have had in the past do affect how you love today. Don't get caught up in repeating the cycles that you've always been in – or the cycles that your parents may have modeled for you.  You may need to forgive some people that have wronged you, or you may need to keep reminding yourself that your past is simply in the past.
Let's look at love as a chalkboard. We may need to erase or wash it so that we have a clean slate on which to love.