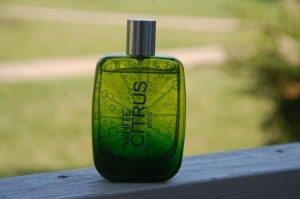 Bath and Bodyworks is a girly store. They used to have some barber shop smelling stuff… but now they only have a handful of man smells. Most of those are barely that.
I like manly smells. I want to smell good. Aftershave, leather, pine, cedar, musk, rain, leaves, grass. These are manly smells.
I do enjoy walking in with my wife and picking out smells.for her. Mostly because if she goes in alone, she comes out with old lady smells.
If I'm her backup, I can assure she will smell like a sexy beast or like baked goods… which is also sexy.
The new man section has a scent called White Citrus. It is nice. If Mountain Dew were a cologne, it would smell like this. I can handle smelling like Mountain Dew.
Mountain Dew is caffeinated, and has power, and sugar. Sweet, but powerful. That's many, I guess.
So last night, since I already had on some manly cologne – which I applied while walking through a fancy department store. I gave myself a healthy spritz of some Burberry manly man aftershavy- cologne. Nothing beats smelling good for free.
So, already smelling good – I thought I would try some hand Lotion. Not being a hand lotion type of guy, I gave myself a nice big squirt … and realized it wa probably enough lotion to take a bath.
Now my silky smooth man hands , my beard, my hair, my shirt, my wife, and my son smell like citrus soda.