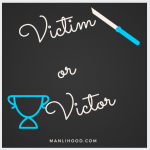 In our culture today – there is a rampant "victim mentality" – and while we don't want to take away the legitimate issues that a real victim of a crime or abuse faces – we think somehow people have used their status as victim as a cop out, or invented reasons to identify as a victim.

Is your heart in the right place?
"I feel…"

These are two of the most overused words in the english language. Try to eliminate them from your vocabulary, unless you are literally talking about your feelings.

Feelings are great, and they have a purpose, but it's certainly not to guide your life. Whoever said, "Follow your heart" was a fool. Your "heart" is your emotional center. Emotions have a great purpose – to allow us to enjoy life, to mourn loss, to have a tangible way to experience love – but feelings are fickle, and they are not meant to be the guiding force in our life.

You might feel like you're defeated.
It's okay to feel that way.
It's not okay to let those feelings keep you on the ground while the ref is counting to ten. Get up, and keep fighting.

You might feel like your wife doesn't love you any more, or like you don't love her anymore.
I can't deny that those feelings exist.
But I can say that love is a choice, not a puddle you fall in. Get up and keep fighting! Love is an action that you CHOOSE to do. I've found when you exercise that action, the feelings often return.
You might feel like the whole world is against you.
And it might just be.
but since when is that an excuse to stop standing firm in your convictions?

Don't follow your heart. Lead your heart.
Make decisions based on wise counsel, and with common sense, and with your guiding moral compass, and with your convictions.

The heart follows wherever it is led. It swings back and forth like a pendulum. Just embrace that, learn to laugh and cry when you should, and don't expect those emotions to be a roadmap to your destination.

Do you want to be a victor instead of a victim? Then put your feelings in the proper place.