Check out the new ebook from Josh Hatcher on Amazon.
I know what you are thinking!
At just $1.99, that's less than 4 tenths of a penny for every Chunk of Manly Knowledge!
What a great bargain!
Wisdom for Men: 500 Chunks of Manly Knowledge is full of excellent passages on manhood, courage, hard work, common sense, and the enduring spirit of men. With quotes from Bear Grylls, Jack Donovan, Teddy Roosevelt, George S. Patton, and many others, Josh Hatcher has compiled a meaningful and inspiring source of wisdom for any man.
Just click here to get the book from amazon!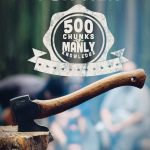 See what others are saying:
Simple, easy-to-digest, nuggets of wisdom, but packed with plenty of meat to sustain the journey. Loved perusing this awesome collection of wisdom! I will refer to this often.