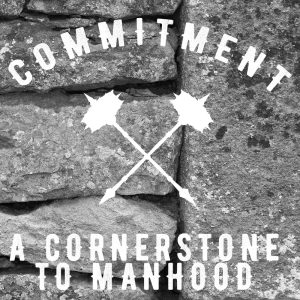 Commitment is value that every man needs to understand. It really defines the heart of what true manhood is. Are you a man known for commitment? Can others describe you as a committed man? In this blog series, we'll explore the idea of commitment, and what it means to your life.
I know this is going to seem old-fashioned and prudish. I'm okay with that. I think that in the guise of being "modern" and "forward-thinking" – we've tossed out a lot of babies with bath-water. I think sometimes being "old-fashioned" about things is actually a statement about your character, rather than a statement about your cool-ness.
I'd like to go on and on about sex – and where I think it belongs in the grand scheme of things – but I'll talk instead about commitment itself. If you want to know why I'm old-fashioned about the sex part, shoot me an email and I'd be glad to talk to you about it.
What I will talk about is commitment in your romantic relationships. When I hear stories of seven year long engagements, or people who live together their whole lives and don't get married – it makes me scratch my head.
Here's the way I see the flow of commitment.
Romance – A man and a woman find themselves attracted to each other – and they enjoy each others' company. At this point- the commitments are simple. Do you want to meet me for dinner? Yes. Then I am committed to pick you up at 8. Do you want to date me exclusively? Great. I will delete all the other girls from my facebook. (haha!) Want to simplify the headaches at this stage of a relationship? Communicate your expectations. Communicate what your commitments are and what commitments you expect. Don't just assume anything.
Engagement – you should abandon all romance with someone if you know that you couldn't marry them. Why waste your time and energy on someone if you know you don't like them? Better to endure a little heartache before a lot of heartache. Once you locate the one you want to marry – then it's time to commit. Engagement is formal. Don't throw around proposals unless you are sure this is the person you want to marry. It's not about "taking the next step" – romance and dating is when you make your decisions – engagement is a promise to marry each other. So don't do it until you are ready to make that promise! Engagement is not about getting to know each other – it's about making wedding plans. Any engagement that lasts more than a year or two should raise questions about your commitment level. To be honest – I think a nice short engagement is ideal! Why wait? If you know this is the one you want to marry, the only reason to wait is saving up money for the wedding…. I recommend getting married on the cheap. 🙂
Marriage – Marriage is supposed to be forever. It's not a trial. It's not a temporary thing. It's not easy. Commitment to see it through matters. Let me encourage you – when you face struggles – don't quit. And as un-manly as it sounds – seeing a marriage counselor or a pastor or good friend to talk through your problems. It might be a bit humiliating – but it's better than throwing away the most important commitment you'll make.
Divorce – I hate to say it – but it happens. Sometimes it's your fault – sometimes it's hers. Sometimes it's both. There is no such thing as a "no-fault divorce." I know that's not a popular position – but let me make a couple things clear. You can recover from it. You can get on with your life. And you can get another shot at love. But let me recommend that you go through some good counselling, so that you don't get caught in a cycle of making the same decisions over and over again.
Also – remember – if you are divorced and you have kids – divorce doesn't end your commitment to raise those kids.