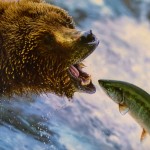 Nature itself is going through a reset – the days are getting longer, the flowers and buds are forming on the trees, and mammalian creatures as awakening from their winter slumber.
As spring nears, you may find yourself still a little groggy from winter, and your inner grizzly may need some awakening.
Men, let's look at how we can shake off the winter sleep and get ourselves ready to growl, eat fish, and maul hikers… err… something.

I know I'm not the perfect example of health. I'm overweight and out of shape – but I am working on it.

Regardless – I've lost like 8,000 pounds, if you add it all up. 🙂 I have learned a thing or two about fitness – even if I haven't applied it.

That being said – let's make it a point to apply it. Whether you are a fat old grizzly, or a svelt young grizzly – we can all benefit by taking some time to get our body moving, and to eat better.

That's honestly the secret to any fitness, really. Move more – eat better.

My point is, what ARE you going to do to give your body some attention? Weight training? Cardio?  What are you eating that you should stop eating?

Take some time to talk to your doctor, a personal trainer, or someone to help you come up with a plan to improve your physical fitness.   

Get your inner grizzly turned into a force to be reckoned with.