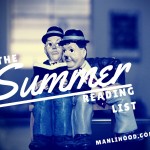 Want to grow this summer? Download these books to your kindle, or snag a paper copy and read them by the campfire or on the beach.

Making Men by Chuck Holton

This book is an amazing reflection, birthed out of Holton's desire to chart a course for his own sons.  Holton is a Christian, and the book reflects that, but even if you are not a Christian, there's a lot of great content here. Holton lays out the characteristics or "building blocks" of manhood, and makes no bones about what it means to be manly.
I'm especially moved by his realization that his job was keeping him from his family – so he quit and moved to Panama – not without establishing several sources of residual income, enough to meet his family's needs.  A man may be his family's provider, but that is not his only responsibility. He is also responsible to raise his children. Holton talks about what that means.

The book casts a vision for men to rise up and cast off passivity, and for me, that's a message that I need to hear.