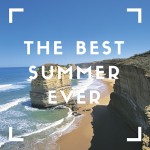 What if you could have the best summer ever? The kind of summer that your family or friends will remember for the rest of their lives! Want to make it happen? Of Course you do. This month, we'll explore some things that will help make your summer the best ever.


Now that you have a list, you've got to do some scheduling. Hopefully you use a planner or calendar app, and sync it with your family, so you can all be organized in general – but if not – maybe this is a good time to start!

I've found that scheduling things like leisure may seem a little silly, but it helps make sure that it happens.

Identify the list items that are good for those spontaneous pickup moments – but make it a point to schedule the ones that require a little more planning and forethought.

You may not have the same leisurely summers of your youth – without care or responsibility – so you may have to schedule around your work – and that's perfectly acceptable. Just make sure that you DO find time for adventure, leisure, and fun.