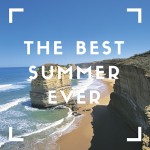 What if you could have the best summer ever? The kind of summer that your family or friends will remember for the rest of their lives! Want to make it happen? Of Course you do. This month, we'll explore some things that will help make your summer the best ever.

Fun is important. Leisure is important. They are often like a drink of a lemonade after mowing the lawn – refreshing and energizing.
But let's make our summer about even more… let's look at how we plan to grow!

Make a personal growth plan for the summer.
What books will you read?
What conferences or seminars will you attend?
What podcasts will you listen to?
What skills do you need to develop or hone?

Take some time not only to identify these things, but to make some goals for yourself.

Summer really is a great time to sit on a hammock in the evening and read a book – or to pop in a podcast on a summer drive.

Maybe your summer involves a physical fitness routine, or practice schedule for some skill you need to whip into shape.