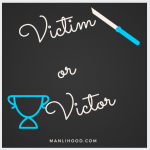 In our culture today – there is a rampant "victim mentality" – and while we don't want to take away the legitimate issues that a real victim of a crime or abuse faces – we think somehow people have used their status as victim as a cop out, or invented reasons to identify as a victim.

Who are you?
This question means so much. There is so much talk these days about "identity" – Gender identity issues aside, as a man, you need to know your identity. Know what it is that defines you.

If your history as a bullied child defines you, then you are a victim.
If your history as a sex-abuse victim defines you, then you are a victim.
If your poverty defines you, then you are a victim.
If your race, ethnic background, or physical attributes are "holding you back" – then you are a victim.

Regardless of whether or not we can legitimately be classified as a victim is the simple truth that we choose our mindset, and we choose our trajectory.

That starts by knowing WHO you are, and where you are in your life. Be honest with yourself, the good and the bad.
You can choose to remain a victim, or you can choose to be a victor. Make the victor your identity. Choose to identify not as someone wounded and hurt, but as someone who is overcoming that hurt. Don't identify with your current circumstance, but rather with your pre-determined outcome.