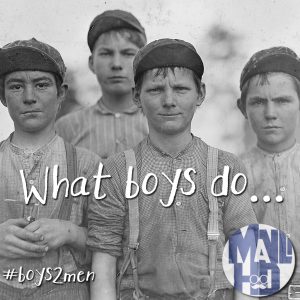 Remember that 90's RnB Group Boys II Men? Yeah. They were great. That has nothing to do with what we're talking about though. What we're talking about is common behaviors that should have died off when a boy became a man.
The first one of those behaviors? Whining
Obviously – men do this. It is a behavior that didn't just "die" with the onset of manhood – but it should.
I don't think that identifying something that is wrong and needs to be repaired is the same thing as whining. It's okay to identify a need, talk about solutions, and then implement solutions.
Now that we've established that- let's talk about whining.
Boys who don't get their way complain about it.
Men learn to deal with it, and find solutions to problems.
Life isn't fair. It's true, and you still have to deal with it. Whining about it rarely levels the playing field, but learning to rise above it is the ultimate reward.
Harvey Mackay
Firmness in enduring and exertion is a character I always wish to possess. I have always despised the whining yelp of complaint and cowardly resolve.
Robert Burns
The tendency to whining and complaining may be taken as the surest sign symptom of little souls and inferior intellects.
Francis Jeffrey
If you want to behave like a man – you won't whine. Complaining changes nothing but other's attitudes about you.
Tune in next week for Part 2 of "What Boys Do…" – Fight.