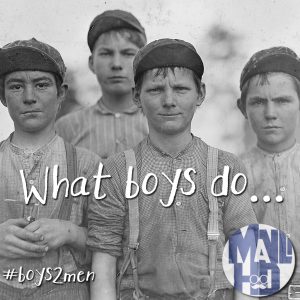 Remember that 90's RnB Group Boys II Men? Yeah. They were great. That has nothing to do with what we're talking about though. What we're talking about is common behaviors that should have died off when a boy became a man.
This week we're talking about FIGHTING.
Certainly – there is a time and a place for that glorious moment that a bully or a tyrant receive a blow to the nose. I firmly believe that when people say, "Violence is never the answer" they forget that there are things worth fighting for – and there are people who need to be corrected with physical force.
But we're not talking about fighting for a greater purpose. We're talking about the schoolyard scrapping, and drunken brawls, and incessant need to win every argument – whether by force or sheer ego.
Many times people fight for the sake of proving their strength. Real men do not need such victories to define their worth.
If I'm minding my own business, and a man physically assaults me, I'm going to defend myself, and I'm going to do what it takes to win. But fighting and arguing and winning should never be what drives me, or motivates me.
A man should be secure enough in his self and in his own strength that he doesn't need to pick fights and push his way to the top.
When I was a boy – I had to fight almost every day. I was bullied and pushed around. There were times when my fights were to protect myself, and times when my fights were to prove myself.  I wish that I could have understood that I didn't need to prove myself with my fists… or for that matter, with my arguments.
The truth is – you can be right, and you can be better than everyone else in the room, without it mattering whether or not everyone knows it.
Boys fight to prove their worth. Men know their worth, and only fight to protect and defend.
Tune in next week for Part 3 of "What Boys Do…" – Waste Time