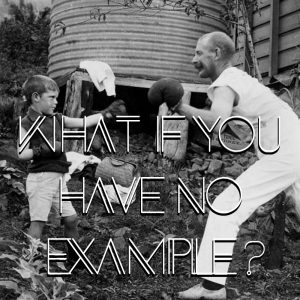 I've been very fortunate to have a good dad, who raised me well.
Not everyone has that luxury. Not everyone has a good example, and so they often find themselves scratching their heads wondering how to be a better man, without a good father figure to use as a template. Here's my advice for those guys.

Our American John Wayne way of life doesn't leave a whole lot of room for a posse…. we ride like lone cowboys out on the plains. "I can do it myself." "I am an island." "I need no one."

The truth is – we are not meant to live life alone. We're meant to live in community. And men, if you want to be a stronger better man, you learn how to do that in relationships with other men.

Have a poker night, join a hunting club, or a bowling league, a writer's group, or a just get together occassionally with the guys to watch an action flick and grill meat.  

Your growth will be directly proportionate to the people that you surround yourself with. So surround yourself with some good quality men who will call you out on your bullcrap, and who will build you up for doing good. Guys who will tease you to keep you humble, but give the shirt off their backs when you need them. Strive to be that same guy.