This week's Man Crush Monday is: Babe Ruth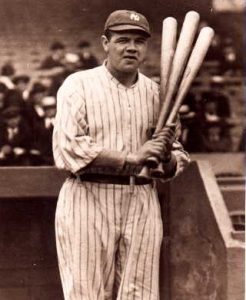 This week's #mancrushmonday celebrates the greatest baseball hitter of all time. He was a legend among men, and his legendary status is almost mythological to every little leaguer. Who doesn't wish they could step up to the plate and point exactly where they are going to hit the ball. Who doesn't want to be the strongest and best player on the field?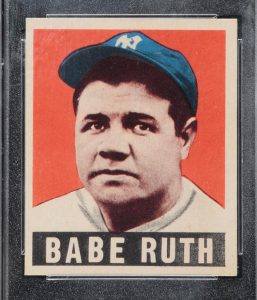 Here's what Wikipedia has to say about Babe Ruth
George Herman "Babe" Ruth (February 6, 1895 – August 16, 1948) was an American professional baseball player whose career in Major League Baseball(MLB) spanned 22 seasons, from 1914 through 1935. Nicknamed The Bambino and The Sultan of Swat, he began his MLB career as a stellar left-handed pitcher for the Boston Red Sox, but achieved his greatest fame as a slugging outfielder for the New York Yankees. Ruth established many MLB batting (and some pitching) records, including career home runs (714), runs batted in (RBIs) (2,213), bases on balls (2,062), slugging percentage (.6897), and on-base plus slugging (OPS) (1.164); the latter two still stand today.[1]Ruth is regarded as one of the greatest sports heroes in American culture and is considered by many to be the greatest baseball player of all time. In 1936, Ruth was elected into the Baseball Hall of Fame as one of its "first five"inaugural members.
At age seven, Ruth was sent to St. Mary's Industrial School for Boys, a reformatory where he learned life lessons and baseball skills from Brother Matthias Boutlier of the Christian Brothers, the school's disciplinarian and a capable baseball player. In 1914, Ruth was signed to play minor-leaguebaseball for the Baltimore Orioles but was soon sold to the Red Sox. By 1916, he had built a reputation as an outstanding pitcher who sometimes hit long home runs, a feat unusual for any player in the pre-1920 dead-ball era. Although Ruth twice won 23 games in a season as a pitcher and was a member of three World Series championship teams with Boston, he wanted to play every day and was allowed to convert to an outfielder. With regular playing time, he broke the MLB single-season home run record in 1919.
After that season, Red Sox owner H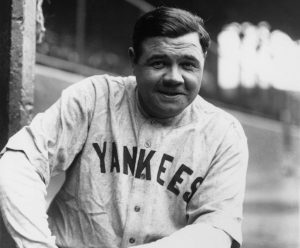 arry Frazee controversially sold Ruth to the Yankees, an act that, coupled with Boston's subsequent championship drought, popularized the "Curse of the Bambino" superstition. In his 15 years with New York, Ruth helped the Yankees win seven American League (AL) championships and four World Series championships. His big swing led to escalating home run totals that not only drew fans to the ballpark and boosted the sport's popularity but also helped usher in the live-ball era of baseball, in which it evolved from a low-scoring game of strategy to a sport where the home run was a major factor. As part of the Yankees' vaunted "Murderer's Row" lineup of 1927, Ruth hit 60 home runs, extending his MLB single-season record. He retired in 1935 after a short stint with the Boston Braves. During his career, Ruth led the AL in home runs during a season twelve times.
Here's a few quotes from The Bambino:

"The only real game, I think, in the world is baseball."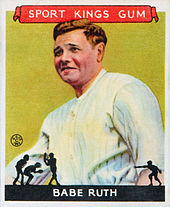 "I hear the cheers when they roared and the jeers when they echoed."
"Never let the fear of striking out get in your way."
"I said I'm going to hit the next one right over the flagpole. God must have been with me."
"I have just one superstition. Whenever I hit a home run, I make certain I touch all four bases."
"Baseball changes through the years. It gets milder."
"I won't be happy until we have every boy in America between the ages of six and sixteen wearing a glove and swinging a bat."
"All ballplayers should quit when it starts to feel as if all the baselines run uphill."
"The way a team plays as a whole determines its success. You may have the greatest bunch of individual stars in the world, but if they don't play together, the club won't be worth a dime."
"Baseball was, is and always will be to me the best game in the world."
"If I'd tried for them dinky singles I could've batted around six hundred."
"How to hit home runs: I swing as hard as I can, and I try to swing right through the ball… The harder you grip the bat, the more you can swing it through the ball, and the farther the ball will go. I swing big, with everything I've got. I hit big or I miss big. I like to live as big as I can."
"As soon as I got out there I felt a strange relationship with the pitcher's mound. It was as if I'd been born out there. Pitching just felt like the most natural thing in the world. Striking out batters was easy."
"Baseball is the greatest game in the world and deserves the best you can give it."
"Watch my dust."
"I've never heard a crowd boo a homer, but I've heard plenty of boos after a strikeout."
"All I can tell them is pick a good one and sock it. I get back to the dugout and they ask me what it was I hit and I tell them I don't know except it looked good."
"I thank heaven we have had baseball in this world… the kids… our national pastime."
"You know this baseball game of ours comes up from the youth – that means the boys. And after you've been a boy, and grow up to know how to play ball, then you come to the boys you see representing themselves today in our national pastime."
"Every strike brings me closer to the next home run."
"Never let the fear of striking out keep you from coming up to bat."
"To my sick little pal. I will try to knock you another homer, maybe two today."
"It's hard to beat a person who never gives up."