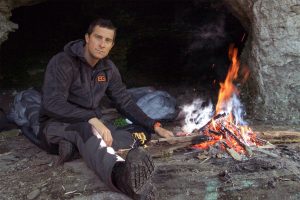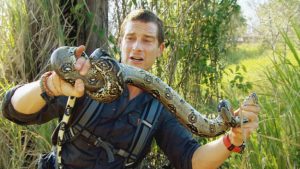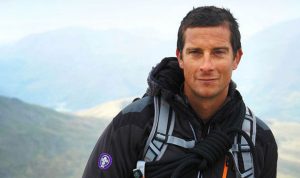 Today's #mancrushmonday is one of my favorites. I've been accused of crushing TOO hard on Bear Grylls, but the truth is – this guy is admirable, and worthy of respect.
His simple and humble spirit, combined with a ferocious drive to succeed have earned him a place in the Manlihood halls of honor.


Wikipedia says:
Edward Michael "Bear" Grylls (born 7 June 1974) is a Northern Irish born British adventurer, writer and television presenter. He is widely known for his television series Man vs. Wild (2006–2011), originally titled Born Survivor: Bear Grylls in the United Kingdom. Grylls is also involved in a number of wilderness survival television series in the UK and US. In July 2009, Grylls was appointed the youngest-ever Chief Scout in the UK at age 35.
Personal life
Grylls was born in Donaghadee, County Down, Northern Ireland.[6][7] He grew up in Donaghadee until the age of four, when his family moved to Bembridge on the Isle of Wight.[8][9]
He is the son of Conservative politician Sir Michael Grylls, who was implicated in the cash-for-questions affair, and Sarah, Lady Grylls.[10] Lady Grylls is the daughter of politician Patricia Ford,[11] briefly an Ulster Unionist Party MP, and cricketer and businessman Neville Ford. Grylls has one sibling, an elder sister, Lara Fawcett, a cardio-tennis coach, who gave him the nickname 'Bear' when he was a week old.[12]
Grylls was educated at Ludgrove School and Eton College, where he helped start its first mountaineering club,[13] and Birkbeck, University of London,[14] where he graduated with a degree, obtained part-time, in Hispanic studies in 2002.[15][16] He graduated from the University of West of England.[17]
From an early age, he learned to climb and sail with his father, who was a member of the prestigious Royal Yacht Squadron. As a teenager, he learned to skydive and earned a second dan black belt in Shotokan karate. He speaks English, Spanish, and French.[18] He is a Christian, and has described his faith as the "backbone" in his life.[19]
Grylls married Shara Cannings Knight in 2000.[3][11] They have three sons.[5][20] In August 2015, it was reported that Grylls had deserted his young son, Jesse, on Saint Tudwal's Island along the North Wales coast, as the tide approached, leaving him to be rescued by the RNLI. The RNLI later criticised him for the stunt, saying its crew "had not appreciated" that a child would be involved.[21]
Military service
After leaving school, Grylls briefly considered joining the Indian Army and hiked in the Himalayan mountains of Sikkim and West Bengal.[22]
In 1996, Grylls suffered a freefall parachuting accident in Zambia. His parachute ripped at 4,900 metres (16,000 ft), partially opening, causing him to fall and land on his parachute pack on his back, which partially crushed three vertebrae. He later said, "I should have cut the main parachute and gone to the reserve but thought there was time to resolve the problem".[23] According to his surgeon, Grylls came "within a whisker" of being paralysed for life and it was questionable whether he would ever be able to walk again. Grylls spent the next 12 months in and out of military rehabilitation at Headley Court[23]
In 2004, Grylls was previously awarded the honorary rank of lieutenant commander in the Royal Naval Reserve;[24] and in 2013 he was awarded the honorary rank of lieutenant colonel in the Royal Marines Reserve.[25]
Everest
On 16 May 1998, Grylls achieved his childhood dream of climbing to the summit of Mount Everest in Nepal, 18 months after breaking three vertebrae in a parachuting accident.[26] At 23, he was at the time among the youngest people to have achieved this feat. There is some dispute over whether he was the youngest Briton to have done so, as he was preceded by James Allen, a climber holding dual Australian and British citizenship, who reached the summit in 1995 at age 22.[27][28] The record has since been surpassed by Jake Meyer and then Rob Gauntlett who summitted at age 19. To prepare for climbing at such high altitudes in the Himalayas, in 1997, Grylls became the youngest Briton to climb Ama Dablam, a peak once described by Sir Edmund Hillary as "unclimbable".[29]


And these  are just a few of Grylls many accomplishments. This guy really is amazing.
Not only that, he is full of wisdom.

1. "Survival can be summed up in three words – never give up. That's the heart of it really. Just keep trying." – Bear Grylls
"A man's pride can be his downfall, and he needs to learn when to turn to others for support and guidance." – Bear Grylls

"The line between life or death is determined by what we are willing to do." – Bear Grylls

"Survival requires us to leave our prejudices at home. It's about doing whatever it takes – and ultimately those with the biggest heart will win." – Bear Grylls

"I loved climbing because of the freedom, and having time and space. I remember coming off Everest for the last time, thinking of Dad and wishing that he could have seen what I saw. He would have loved it." – Bear Grylls6. "All my life the only thing I've been good at has been climbing and throwing myself off big things." – Bear Grylls Qu7. "As a young boy, scouting gave me a confidence and camaraderie that is hard to find in modern life." – Bear Grylls

"To me, adventure has always been to me the connections and bounds you create with people when you're there. And you can have that anywhere." – Bear Grylls

"You only get one chance at life and you have to grab it boldly." – Bear Grylls

"I am not fearless. I get scared plenty. But I have also learned how to channel that emotion to sharpen me." – Bear Grylls