Lou Costa Shares his take on Motivation and Mindset
I'm Bleeding Me.

I'm sprinting, full bore down a local sidewalk on this fog cloaked Saturday morning while thick steam pushes off my head and out from under my drawn hood. The potent mix of this chilly day break and sweat soaked knit cap is causing blinding condensation on my coke bottle thick prescription Persol sunglasses.

The streaked lenses are rendering me damn near as useless with them, as without.

One stem of my jet black shades is held together with a caked glob of "Krazy" branded super glue. I imagine the factory adhesive that used to hold this frame together has slowly been worn away from the constant bombardment of my own workout "shmelting." Toxically eroding the once finely crafted plastic, the lubricated slickness of my skin is now causing me to relentlessly adjust these damned scratched spectacles on my wind beaten face.

Granted It is I, who has insisted completion of this torture, but that doesn't make this last speed interval any less maddening as I claw at these damned glasses.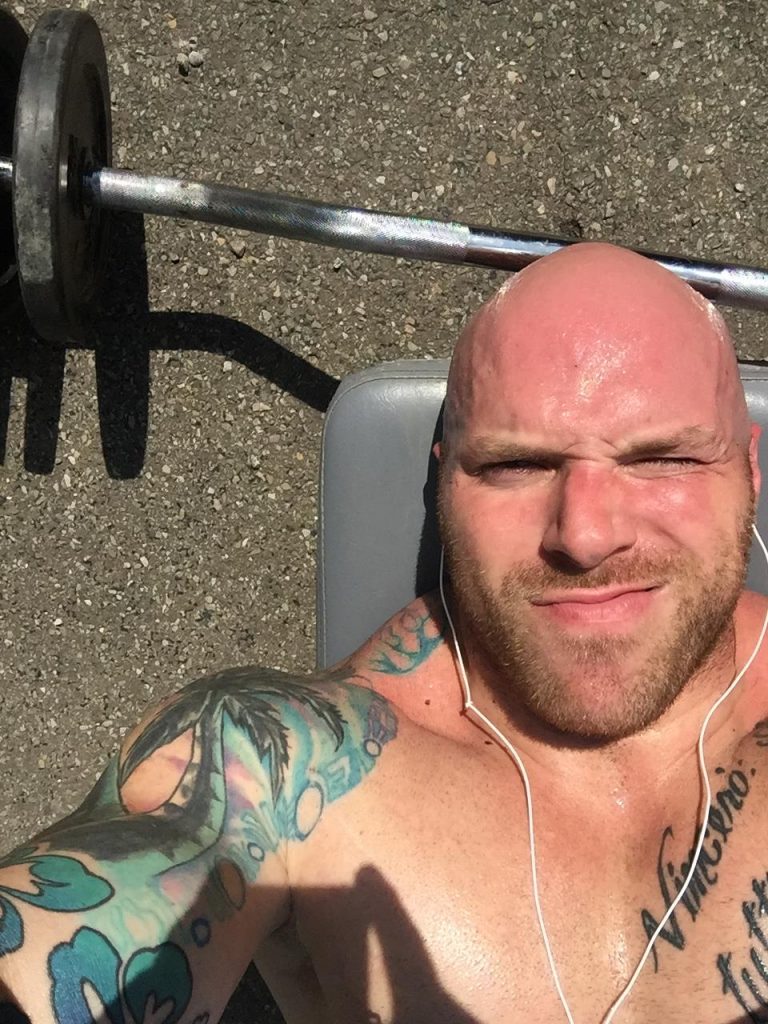 The Cold Gear sweatshirt I am wearing was bought from an UnderArmour Factory outlet for 29.99 – 7 years ago. Smeared snot from my sick 3 year old's very curious and wipe-y hands sticks off the Camo Logo. I look down and notice a large crusty, rock hard boog swath across my chest. I am oddly proud and slightly disgusted at the same time.

The pungent smelling neck of this battle tested garment has long been stretched and cut appropriately to allow the trapped heat of my un-showered body to rise directly into my flared nostrils.

I cannot say I am opposed to my own personal brand of executive man musk.

This, my favorite hoodie comes adorned with sodium stained watermarks that have successfully tracked the output from my previous week's training sessions simultaneously outing my lacking laundry habit as well. The faded and stained white analysis of these left over effort rings are as telling as any FitBit or popular workout device could possibly report back post workout.

ALWAYS … WORK HARDER!
is the message I take from the ripe sweat rings clinging to this stank and mucus stained garb. That same analysis is what ALL the hi-tech algorithm of today's fitness trackers' SHOULD have suggested to you in the first place.

Sadly, they haven't.

A couple walking their medium sized wiener dog just casually switched to the other side of the track. After watching me barrel around the corner they must have deduced that my laboring frame beating down this frozen course rather asthmatically gasping for each stinging breath is NOT something they REALLY wanted to deal with this early in the morning.

I get their point.

Metallica's "Bleeding Me" is blaring into my slightly deaf left ear while barely buzzing out of the the recently broken right ear piece. Some sort of blue, itchy plastic is now exposed where the sleek contoured covering used to sit comfortably inside of my inner ear canal. The constant irritating scraping from this strange material is annoying but the broken bud still succeeds in muting the outside world from James Hetfield's soulful growls.

So how can I REALLY complain?

I won't replace the broken product because I am a serial DESTROYER of all listening devices. The now yellowish apple cord of this particular pair caught on the corner of my beaten red Cardillo belt last week while I was deadlifting in my damp water soaked basement. The right bud ripped harshly to the floor as I felt the accumulation of blood start to pool inside, muddying the sound of my smooth streaming #LouLife Spotify playlist and bothering me for the rest of the training session.

These things happen from time to time.

So, I suspect a new perfectly white pair of headphones would befall a similar fate as the last 3 have anyway. F— it, until they are completely destroyed I ORDER them to soldier on dutifully.

I am bent over, hands on knees and body laboring post sprint work. Waiting for my temples to stop pounding and my equilibrium to recalibrate, I sometimes wonder if this will be the time I actually just slump over in a large taco-loving mass and things simply fade to black. Could this be the day?

Sometimes I wonder If that permanent scenario would actually be worse than the feeling of this physical pain.

Shuddering. Dripping. Freezing. Blinded. I stand and start to slowly walk forward. Eh, I guess we shall live on today, I think. Too bad 🙂

My heartbeat POUNDS out of my chest but I am controlling its slowed rate recovery by a few deeply forced breaths of January air. Inside my body, these breaths pierce every piece of tissue they come into contact with. The expended CO2 I bellow out deep from my lungs heaves clouds of warmed exhale back into the frigid atmosphere.

The natural sinew emitting from my mouth resembles a locomotive's timed puff-clouds fading back into the morning's moisture. These almost embarrassingly but beautifully plumed smoke signals reveal the actual effort it has taken to move this large vessel of mine at such mediocre speeds.

My heart stops wrenching in my chest after a few seconds of paced walking and the metronome control I've mastered over it through years of strength training kicks in.

The realization that my feet are becoming numb from the snow and ice mixture that have accumulated from nature's obstacles along this route has crept into my conscious from the break in action. I think for a second I should've worn thicker socks but decide quickly that it wouldn't have mattered anyway.

I pull my 2009 iPod out of my pocket with cracked and dried hands, thickened from the continued abuse I insist they suffer through. Today it is the elements I wish for them to endure. Tomorrow it will be repeatedly picking up a moldy soaked 200lb sandbag and flinging it over a pre-set bar until my back screams to stop. The day after tomorrow they will be made to grip a freezing steel 2-inch-handled sledgehammer as I smash it into a beaten old tractor tire until I am satisfied.

For now, these achy digits simply hit repeat on Metallica's 8 minute and 18 second masterpiece that will drive me forward to a warm kitchen on the final trip home to cook Dad's special "cheese egg" breakfast for my family. After a few failed attempts from the slightly outdated water-laden touch screen I manage to succeed JUST as the symphony's chords hit and RIGHT before anger engulfs my thought process.Pausing for a moment I take one last huge gasp of air and sneer at the last amount of suffering that I am about to inflict on my system.

Then… I simply take off running at full speed with no second thought. Spraying slush off the ends of my muddied Nikes I disappear into the dark fog. My legs have started shaking uncontrollably on the journey home to the point I CANNOT sprint the incline of my neighborhood's sidewalks any longer. Forced to finish in low 4wheel drive, I gear down to smash the last 40 yards of pavement with a fast and deliberate march.

If you want to, listen closely and you will understand through the buzzing music emitting from blue torn plastic into my scabbed over ear.
Bleeding Me – Metallica
"Caught under the wheels roll.

I take that leash, yeah, I'm bleeding me.

Can't stop to save my soul.

I take the leash that's leading me.

I'm Bleeding me."
Always. Work. Harder.