Every Monday At Manlihood.com – we celebrate men of courage, valor, creativity, innovation, and honor. We celebrate men who have accomplished great things, that have set good examples, and then have made the world a better place. This is #mancrushmonday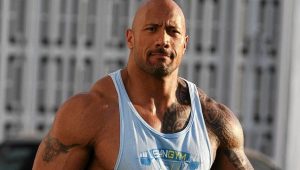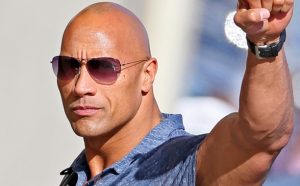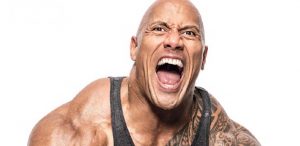 Pro-wrestler and actor Dwayne "The Rock" Johnson isn't just a larger than life entertainer – he's truly an inspirational man, who works hard to be a man with character and to make life better for the men around him.

Here's his story according to Wikipedia:

Dwayne Douglas Johnson (born May 2, 1972), also known by his ring name The Rock, is a Canadian-American actor, producer, and professional wrestler currently signed to WWE.
Johnson was a college football player for the University of Miami, winning a national championship on the 1991 Miami Hurricanes football team. He later played for the Calgary Stampeders in the Canadian Football League, and was cut two months into the 1995 season. This led him to become a professional wrestler like his grandfather, Peter Maivia, and his father, Rocky Johnson (from whom he also inherited his Canadian citizenship).[8]
Johnson gained mainstream fame in the World Wrestling Federation (WWF/E) from 1996 to 2004 as a major figure in the company's Attitude Era, and was the first third-generation wrestler in the company's history. He returned to wrestling part-time for WWE from 2011 to 2013 and continues to make sporadic non-wrestling appearances for the company. As of November 2016, Johnson has had 17 championship reigns in WWE, including 10 as a world champion, winning the WWF/E Championship eight times (seventh reign was as WWE Undisputed Champion) and the WCW/World Championship twice. He won the Intercontinental Championship twice and the WWF Tag Team Championship five times. Johnson is the sixth Triple Crown Champion in WWE history, and won the 2000 Royal Rumble. He is widely regarded as one of the greatest pro wrestlers of all time.[9]
Johnson's autobiography The Rock Says…, co-written with Joe Layden, was published in 2000. It debuted at No. 1 on The New York Times Best Seller list, spent 20 weeks on The New York Times bestseller list and sold 720,000 copies in hardcover alone.[10][11] Johnson's first leading film role was in The Scorpion King in 2002. For this role, he was paid US $5.5 million, a world record for an actor in his first starring role.[12] He has since appeared in various films, and become known for his ability to reinvigorate film franchises. Perhaps his greatest success in his acting career can be sourced to his role as Luke Hobbs in The Fast and the Furious franchise. He hosted and produced The Hero, a reality competition series; and has since continued to produce TV series and films through his production company Seven Bucks Productions, each of which he also stars in. Forbes listed Dwayne Johnson #25 in the Top 100 Most Powerful Celebrities in 2013.[13] He is the world's highest-paid actor of 2016.[14] Time named him one of the 100 most influential people in the world in 2016.[15] In 2015, Muscle & Fitness named Dwayne "The Rock" Johnson as their "Man of the Century."[16]

Check out these amazing motivational quotes from "The Rock"

"All successes begin with Self-Discipline. It starts with you."
"Don't be afraid to be ambitious about your goals. Hard work never stops. Neither should your dreams."
"Grind Hard, Shine Hard."
"I like to use the hard times of the past to motivate me today."
"Not only do I think being nice and kind is easy, but being kind, in my opinion is important."
"One of the most important things you can accomplish is just being yourself."
"The first step to achieving your goal, is to take a moment to respect your goal. Know what it means to you to achieve it."
"The wall! Your success is on the other side. Can't jump over it or go around it. You know what to do."
"There is no substitute for hardwork. Always be humble and hungry."
"Wake up determined. Go to bed satisfied."
"We do today what they won't, so tomorrow we accomplish what they can't."
When life puts you in touch situations, don't say "Why Me?" Just say "Try Me."
"When you walk up to opportunities door, don't knock it… Kick that b!tch in, smile and introduce yourself." – Dwayne Johnson
"With drive and a bit of talent, you can move mountains." – Dwayne Johnson
"You don't need directions, just point yourself to the top and go!" – Dwayne Johnson
"Be the person that when your feet touch the floor in the morning the devil says, "awe s***.. they're up". – Dwayne Johnson
"If something stands between you and your success – move it. Never be denied." – Dwayne Johnson
"In 1995 I had $7 bucks in my pocket and knew two things: I'm broke as hell and one day I won't be." – Dwayne Johnson
"Success at anything will always come down to this: focus & effort. And we control both." – Dwayne Johnson
"Success isn't always about 'Greatness', it's about consistency. Consistent, hard work gains success. Greatness will come." – Dwayne Johnson
"Success isn't overnight. It's when everyday you get a little better than the day before. It all adds up." – Dwayne Johnson
"Think back 5 yrs ago. Think of where you're at today. Think ahead 5 yrs and what you want to accomplish. Be Unstoppable." – Dwayne Johnson