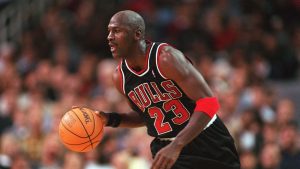 Growing up the 1980's and 90's – there was no more truly heroic figure for most us than Michael Jordan. We wanted his shoes, we wanted to be the kind of athlete he was – wanted to jump and fly like he did….

But it is his drive and his motivation that makes him today's Manlihood.com Man Crush Monday.

Here's a quick bio from Wikipedia:

Michael Jeffrey Jordan (born February 17, 1963), also known by his initials, MJ,[3] is an American retired professional basketball player. He is also a businessman, and principal owner and chairman of the Charlotte Hornets. Jordan played 15 seasons in the National Basketball Association (NBA) for the Chicago Bulls and Washington Wizards. His biography on the NBA website states: "By acclamation, Michael Jordan is the greatest basketball player of all time."[4] Jordan was one of the most effectively marketed athletes of his generation and was considered instrumental in popularizing the NBA around the world in the 1980s and 1990s.[5]
Jordan played three seasons for coach Dean Smith at the University of North Carolina. As a freshman, he was a member of the Tar Heels' national championship team in 1982. Jordan joined the NBA's Chicago Bulls in 1984 as the third overall draft pick. He quickly emerged as a league star, entertaining crowds with his prolific scoring. His leaping ability, demonstrated by performing slam dunks from the free throw line in slam dunk contests, earned him the nicknames "Air Jordan" and "His Airness". He also gained a reputation for being one of the best defensive players in basketball.[6] In 1991, he won his first NBA championship with the Bulls, and followed that achievement with titles in 1992 and 1993, securing a "three-peat". Although Jordan abruptly retired from basketball before the beginning of the 1993–94 NBA season to pursue a career in baseball, he returned to the Bulls in March 1995 and led them to three additional championships in 1996, 1997, and 1998, as well as a then-record 72 regular-season wins in the 1995–96 NBA season. Jordan retired for a second time in January 1999, but returned for two more NBA seasons from 2001 to 2003 as a member of the Wizards.
Jordan's individual accolades and accomplishments include five Most Valuable Player (MVP) Awards, ten All-NBA First Team designations, nine All-Defensive First Team honors, fourteen NBA All-Star Game appearances, three All-Star Game MVP Awards, ten scoring titles, three steals titles, six NBA Finals MVP Awards, and the 1988 NBA Defensive Player of the Year Award. Among his numerous accomplishments, Jordan holds the NBA records for highest career regular season scoring average (30.12 points per game) and highest career playoff scoring average (33.45 points per game). In 1999, he was named the greatest North American athlete of the 20th century by ESPN, and was second to Babe Ruth on the Associated Press's list of athletes of the century. Jordan is a two-time inductee into the Basketball Hall of Fame, having been enshrined in 2009 for his individual career, and again in 2010 as part of the group induction of the 1992 United States men's Olympic basketball team ("The Dream Team"). He became a member of the FIBA Hall of Fame in 2015.


And check out 25 of Jordan's best quotes:


1. "I've missed more than 9000 shots in my career. I've lost almost 300 games. 26 times, I've been trusted to take the game winning shot and missed. I've failed over and over and over again in my life. And that is why I succeed." – Michael Jordan
"Talent wins games, but teamwork and intelligence wins championships." – Michael Jordan
"I can accept failure, everyone fails at something. But I can't accept not trying." – Michael Jordan
"My attitude is that if you push me towards something that you think is a weakness, then I will turn that perceived weakness into a strength." – Michael Jordan
"You must expect great things of yourself before you can do them." – Michael Jordan
"To be successful you have to be selfish, or else you never achieve. And once you get to your highest level, then you have to be unselfish. Stay reachable. Stay in touch. Don't isolate." – Michael Jordan
"Obstacles don't have to stop you. If you run into a wall, don't turn around and give up. Figure out how to climb it, go through it, or work around it." – Michael Jordan
"If you quit once it becomes a habit. Never quit!" – Michael Jordan
"Always turn a negative situation into a positive situation." – Michael Jordan
"Everybody has talent, but ability takes hard work." – Michael Jordan
"To learn to succeed, you must first learn to fail." – Michael Jordan
"Never say never, because limits, like fears, are often just an illusion." – Michael Jordan
"Don't let them drag you down by rumors just go with what you believe in." – Michael Jordan
"Make it happen" – Michael Jordan
15."If you do the work you get rewarded. There are no shortcuts in life." – Michael Jordan
"I've failed over and over and over again in my life and that is why I succeed." – Michael Jordan
"Once I made a decision, I never thought about it again." – Michael Jordan
"The minute you get away from fundamentals – whether it's proper technique, work ethic or mental preparation – the bottom can fall out of your game, your schoolwork, your job, whatever you're doing." – Michael Jordan
"The key to success is failure." – Michael Jordan
"Some people want it to happen, some wish it would happen, others make it happen." – Michael Jordan
"Learning's a gift, even when pain is your teacher." – Michael Jordan
"Failure is acceptable. but not trying is a whole different ball park." – Michael Jordan
"There is no "I" in team but there is in win." – Michael Jordan
"I play to win, whether during practice or a real game." – Michael Jordan
"You have to expect things of yourself before you can do them."- Michael Jordan