If you are like me, and you enjoy a good GUY flick… but are also a cheapskate and enjoy netflix… than you'll appreciate our Netflix Manly Movie Night features.
Flyboys stars James Franco as a country boy who enlisted with France to fly a fighter plane during World War I.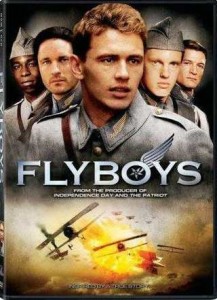 The movie isn't certainly not Oscar winning material… but does it need to be? With lots of visually intriguing aerial battles, a bit of romance (enough that your wife or girlfriend wouldn't mind watching it with you.) It's also got a pet lion, and some fantastic characters, and a few tear jerking moments.
It also sparked my interest in WWI. I know very little about the Great War, as it's the Second Great War that gets a lot of "glory" … however, there is a lot of heroism and tragedy in the history of WWI. I'm looking forward to delving a little more into history.
Acting: B-
Visuals: A
Fun: B+
Date Night : B
Guys Night: A
Family Night: B-