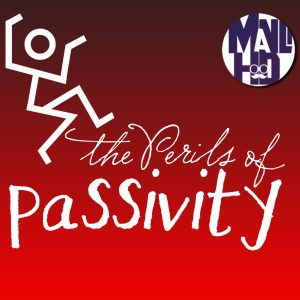 Passivity is really a crappy substitute for manhood. But it's as common as facial hair on a hipster, or salmon-breath on a grizzly bear.
Passive men will let life happen to them. They will say, "Whatever!" when faced with a decision – they will let their wives and kids make and break the rules of their home.
Be Aggressive  –
Take charge of YOUR life – and lead yourself. Hunt out the holes in your integrity, and patch them up. Set goals and crush them. Determine your path – and run it like a stinking clydesdale.
but don't be Passive-Aggressive – this is the opposite of what we're shooting for:
pas·sive-ag·gres·sive
adjective
is the indirect expression of hostility, such as through procrastination, sarcasm, stubbornness, sullenness, or deliberate or repeated failure to accomplish requested tasks for which one is (often explicitly) responsible. ( Read more at Wikipedia http://en.wikipedia.org/wiki/Passive-aggressive_behavior )
This is what happens when someone tries to be aggressive – but misses the point. Aggression has a negative connotation – so we want to clarify – unless you are physically protecting yourself or your family from harm – aggressiveness should not be directed toward people.
Be Assertive –
It's probably a better word than aggressive when it comes to dealing with PEOPLE.
Do not let your boss, your spouse, your kids, your neighbors, or anyone push you around or walk all over you. This does not mean you need to be a butt-hole – but you may need to draw some clear lines for the people in your life.
Want to do it right? Communicate expectations clearly, and consistently. People cannot treat you the way you want them to treat you unless you tell them HOW to treat you.
Be Positive –
Eyeore will NEVER be on top – why? because he's a sad-sack-hack full of sawdust and complaints.
You've got to use positive words. Because they are like magic.
It's the kind of magic carved into the universe since the beginning of time.
You doubt it?
Ancient Hebrew Poetry (The Book of Proverbs) says this: Death and life are in the power of the tongue, and those who love it will eat its fruits.
Actually – not to preach at you, but the Bible, and many other ancient "holy" texts speak volumes about the fact that the words we speak and the thoughts we entertain will determine the actions we take.
My friend Mike McAvoy says (He probably stole it from someone)
"Your Attitude determines your Altitude"
Meaning that the attitude is the angle of the nose in an airplane – and the altitude is how high it goes!
Instead of dragging yourself and everyone around you down with negative words (I can't /You always… / I hate…  / I'll never…  ) then start filling it with positivity!
Tune in Next Week, for The Perils of Passivity:  What you think – you ARE
Don't Miss Out! Subscribe today to make sure you get these emails in your inbox!