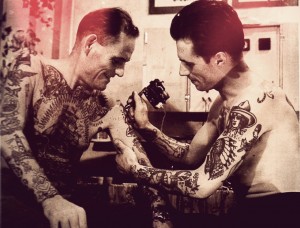 By Mike Miller
First of all, I strongly encourage you not to get one if you are not at least eighteen years old. This doesn't mean that you can't, but you may regret it later on in life.  If you aren't eighteen or older you will need the permission of a parent, however and good luck convincing mom and dad. I remember when I was in high school on the wrestling team when most of the members of the team got a tattoo on the side of their calf.  I wanted to fit in, but I decided not to get one, thank God.  Back then I was into the Tasmanian devil, and I'm not sure why.  So guess what I planned on getting tattooed on my calf? I am lucky that I made the right decision because today that thing would probably look like a drunken Sasquatch.
I got my first tattoo (actually two of them – one on the side of each calf ironically) when I was twenty three years old. Now at the ripe age of thirty four I have ten of those pieces of art permanently a part of my everyday life.  I am not the same person I was when I was twenty three.  I had a different mindset back then, a different perspective of life, and a different attitude. I have matured a lot since then and have experienced much more. With that said, there are at least three of my tattoos that I wouldn't have gotten if I could do it over.  It's not that I don't like them; it's just that I would have gotten something else, or gotten them in different places.
If you have your heart set on getting a tattoo please follow this advice.  Think long and hard about what you want to get.  You don't want to be the guy at a pool party in his forties with his shirt off sporting a squirrel on his left shoulder that used to be Alvin the chipmunk.  You may have loved the chipmunks growing up, but you will certainly be the humor of the pool party amongst your friends because of the poor decision you made when you were sixteen. Also, think about where you want to get the tattoo – especially if you are young, have a professional career, or are planning on having a professional career.  If you are a salesman for a multi-million dollar company you probably shouldn't get a pinup girl on your neck. If you are fresh out of college getting ready to interview to start a career it would be wise to avoid getting a spider tattooed on your hand.  Also, research the tattoo artists of your area to make sure you get a good one. Not all tattoo artists are good, and not all are professional.
Remember, if you are unsure, don't get one.  If you are sure, make sure it's something that has meaning to you and always will.  It's not wise to get your girlfriend's name tattooed across your back, because you may not be with her forever. I always tell people to avoid names unless it's your children.  That is fine because they will always be your children. Some people have gotten their pet's names as well, which is fine if you are that much of an animal lover.  Lastly, check over the work just before getting tattooed. This is vital. There have been times where people got miss-spelled tattoos because they didn't pay attention to the detail.