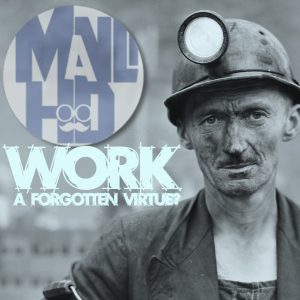 Work is a virtue. And perhaps it's one that has been forgotten. Certainly if we compare the attitudes of our grandfathers and great-grandfathers about work to the mindsets of our peers and our children, we'll see a degradation of the values that once defined hard working men.
Something I've noticed a lot lately, are people begging. Demanding. Expecting. Feeling entitled.
And it makes me ponder what has happened, that we've stopped thinking of work as being it's own reward?
I want to make a few things clear. I think that when someone needs help providing for their family, it's certainly okay to ask for help. When someone has an issue that they cannot do on their own – it's okay to ask for help.
But when a man is able-bodied, and refuses to work for his reward – then what he is doing is not asking for help – but begging.
It's a shameful thing to beg.
It's okay to ask for help – but it's not okay to beg.
What's the difference? The difference is in the attitude the motivates. None of us are entitled to anything, and no one owes us anything. We need to work, and find ways to work in order to meet our own needs.
Somewhere along the way – it became okay to just beg. To just depend on the generosity of others, or to depend on the taxation of others to provide. (I am not against a social safety net that offers that hand-up to those that need it. I'm just saying that we've created a situation where people do not fully appreciate the value of working hard to earn their sustenance.)
Many men need to ask for help, they are working hard, but have fallen on hard times, and need a boost from friends or family or someone willing to help… but because they still feel the stygmas, they won't ask for help when they should.
I think what it comes down to – is if a man works, he'll earn what he needs, and he'll deserve whatever help he needs.
If a man refuses to work – he's a beggar.
Let's make it a point to understand the difference, and a point to work hard for our reward!
Tune in next week for Work: A Forgotten Virtue? –  You pick what you plant