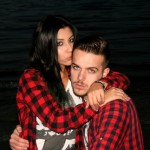 February – thanks to St. Valentine's Day – it's filled with hearts and doilies and talk of love.
Funny how love can turn a big, hairy man into a blubbering pile of conversation hearts and rose petals, right?
Your heart beats out of your chest. Blood starts pumping to your face, to your groin. Your mouth dries up – or worse- starts salivating. You can't concentrate, you can't eat, you can't sleep. Oh – what love does.

Because of the emotions that seem to flood those young relationships – it's easy to see why people associate those FEELINGS with love.

I firmly believe that love is a choice. It's not how you feel. In 10  years, that beautiful young bride you married will be a little wrinklier, and those butterflies in your gut might feel more like bricks… it doesn't mean love is any less powerful or beautiful, but it's definitely not as emotional.  In fact – after almost 18 years of marriage, I can tell you – that I love her more everyday. Sometimes, those emotions are still there – sometimes – it's very hard choice to make.

Don't get confused about the nature of love, or you'll find yourself giving up on it way too early.