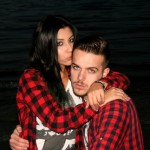 February – thanks to St. Valentine's Day – it's filled with hearts and doilies and talk of love.
Funny how love can turn a big, hairy man into a blubbering pile of conversation hearts and rose petals, right?


You may have the woman of your dreams all lined up. She might even think you are pretty cool – maybe even date you for a little while…

But let's make something clear – she doesn't HAVE to love you. You cannot force someone to love you. As much as love is a choice for YOU – it's a choice for HER.

When you chose to tell her that you love her, and to show her that you love her – obviously, you hope that she wants to give you love in return. But if you are giving that love with the goal of obligating her to love you – you are missing the point.

She does not HAVE to love you.

You cannot MAKE her love you.

All you can do is show her who you are, how you feel, and how you value her. If she reciprocates, it can be a beautiful thing. But never, ever, assume that you are OWED love in return. Love doesn't demand reciprocation.