This week's Man Crush Monday is: Shaquille O'Neil
Ask any 90's kid about their favorite athlete, and chances are good you'll here about Shaq. This giant of a man is not only known for his skill on the basketball court, but for being a good natured and like-able guy.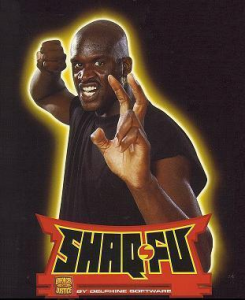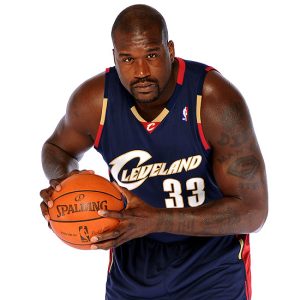 Here's what Wikipedia says about Shaq:

Shaquille Rashaun O'Neal (/ʃəˈkiːl/ shə-keel; born March 6, 1972), nicknamed Shaq (/ʃæk/ shak), is a retired American professional basketball player and former rapper who is currently an analyst on the television program Inside the NBA. Listed at 7 ft 1 in (2.16 m) tall[1]and weighing 325 pounds (147 kg), he was one of the heaviest players ever to play in the NBA. O'Neal played for six teams throughout his 19-year NBA career.
Following his career at Louisiana State University, O'Neal was drafted by the Orlando Magic with the first overall pick in the 1992 NBA draft. He quickly became one of the best centers in the league, winning Rookie of the Year in 1992–93 and later leading his team to the 1995 NBA Finals. After four years with the Magic, O'Neal signed as a free agent with the Los Angeles Lakers. They won three consecutive championships in 2000, 2001, and 2002. Amid tension between O'Neal and Kobe Bryant, O'Neal was traded to the Miami Heat in 2004, and his fourth NBA championship followed in 2006. Midway through the 2007–2008 season he was traded to the Phoenix Suns. After a season-and-a-half with the Suns, O'Neal was traded to the Cleveland Cavaliers in the 2009–10 season.[2] O'Neal played for the Boston Celtics in the 2010–11 season before retiring.[3]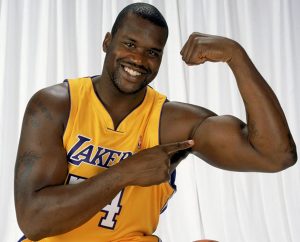 O'Neal's individual accolades include the 1999–2000 MVP award, the 1992–93 NBA Rookie of the Year award, 15 All-Star game selections, three All-Star Game MVP awards, three Finals MVP awards, two scoring titles, 14 All-NBA team selections, and three NBA All-Defensive Team selections. He is one of only three players to win NBA MVP, All-Star game MVP and Finals MVP awards in the same year (2000); the other players are Willis Reed in 1970 and Michael Jordanin 1996 and 1998. He ranks 7th all-time in points scored, 5th in field goals, 13th in rebounds, and 7th in blocks. Largely due to his ability to dunk the basketball, O'Neal also ranks 3rd all-time in field goal percentage (58.2%).[4] O'Neal was elected into the Naismith Memorial Basketball Hall of Fame in 2016.[5]
In addition to his basketball c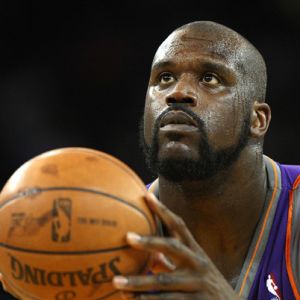 areer, O'Neal has released four rapalbums, with his first, Shaq Diesel, going platinum. He has appeared in numerous films and has starred in his own reality shows, Shaq's Big Challenge and Shaq Vs.. He currently hosts The Big Podcast with Shaq.[6]
—
Shaq is known for his sense of humor, and we've assembled a few quotes that highlight both his humor, and maybe even a bit of hidden wisdom.
The stats win nothing. I'm still sexy. I'm still great.
Shaquille O'Neal
I am Superman. And the only thing that can kill Superman is Kryptonite. And Kryptonite doesn't exist.
Shaquille O'Neal
I make the game easy. Double and triple me, I'll kick it out to you for a wide-open shot. I'll add years to your career.
Shaquille O'Neal
I'm George Bush. I'm the president.
Shaquille O'Neal
I think I'm the only player who looks at each and every center and says to myself, 'That's barbecued chicken down there.'
Shaquille O'Neal
They shot the ball well early. What comes out of the microwave hot doesn't always stay hot. I know, because I eat bagels in the morning.
Shaquille O'Neal
Excellence is a habit. You are what you repeatedly do.
Shaquille O'Neal
If I were a painter, you'd be calling me Shaqcasso.
Shaquille O'Neal
The day I stopped worrying about stats is the day I started winning
Shaquille O'Neal
The biggest thing that will define my legacy is how I've done it, and what I've done, and who I am. I'm a weird big guy. Doing rapping, doing movies. Do a lot of stuff. But always do things the right way. Went to the police academy to become a police officer. Get his master's in criminal justice, stayed out of trouble. Played for three different teams. Changed three different franchises around. This is a guy who they would have secret meetings about to change the rules. So, that's going to be my legacy: the most dominant player ever.
Shaquille O'Neal
I really get motivated when I have doubters.
Shaquille O'Neal
I ate too many Frosted Flakes. I don't remember what I said last night.
Shaquille O'Neal
My message to little kids who aspire to be anything they want to be is to listen to their parents.
Shaquille O'Neal
We're focusing on the whole pie, not a slice. A slice is good, but it's not good enough to get you fat. We're trying to get fat.
Shaquille O'Neal
I'm going to be on a mission. I've handled my personal vendettas and handled them well. Every challenge you put in front of me, I've handled it, dismantled it – ate them, dropped them off in the bathroom and flushed them away.
Shaquille O'Neal
I don't believe in pressure. Pressure is when you don't know where your next meal is coming from.
Shaquille O'Neal
Keep in mind, I'm not allowed to be tough. I'm tamed.
Shaquille O'Neal
Thank God I had two parents who loved me enough to stay on my case.
Shaquille O'Neal
The only person who can really motivate you is you.
Shaquille O'Neal
You guys make the rules up, so a foul is a foul. It doesn't matter if a guy is bigger and stronger. It's not my fault I ate my Frosted Flakes when I was little, and you ate Wheaties.
Shaquille O'Neal
You gotta fight all the karate guys, and once you kill them off, now you gotta get to the ninjas. Once you get through the ninjas, now you gotta get to the showmen. Now me, I'm the showman of big men.
Shaquille O'Neal
I'm always ready for a change. I'm Irish. I'm a leprechaun.
Shaquille O'Neal