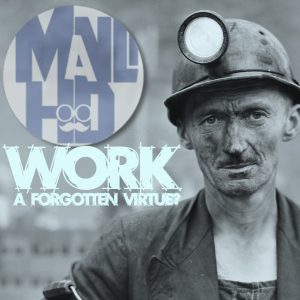 Work is a virtue. And perhaps it's one that has been forgotten. Certainly if we compare the attitudes of our grandfathers and great-grandfathers about work to the mindsets of our peers and our children, we'll see a degradation of the values that once defined hard working men.
When I graduated, an older gentleman from my church hired me to work for his sawmill and stone quarry. He didn't really need to work anymore, but working kept him entertained, and it gave him a chance to help me out, by giving me work to do. We made white pine shingles, and pulled out irregular flag stone out of a quarry on the hill.
I'd also do whatever odd jobs he needed, including carpentry work on his house, and landscaping.
One day, he noticed me shovelling a pile of dirt to the wrong spot –  he told me – "Never shovel the same pile of $%@! twice."
Which being translated, means- if you are going to move something, put it in the right place the first time – rather than needing to move it twice.
That and the adage "Work Smarter, Not Harder" have stuck with me over the years. I realize that working hard is good – but it is important to stop and think about how the job can be simplified and done efficiently.
Mostly, it means that if we take some time to make lists, draw diagrams, think through the process, we can save ourselves a ton of heavy lifting!
Efficiency is a science – and I believe that the root of it is in the plan. Taking the time to think about the process, and plan out the moving parts saves a multitude of work.