Every Monday At Manlihood.com – we celebrate men of courage, valor, creativity, innovation, and honor. We celebrate men who have accomplished great things, that have set good examples, and then have made the world a better place. This is #mancrushmonday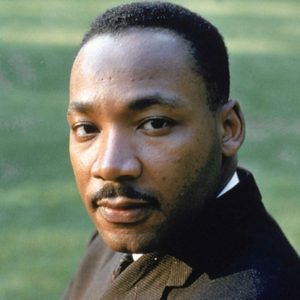 Today's ManCrushMonday is truly an American hero.
I'm not entirely sure why this great country became so corrupted by racism. I'm not sure why men and women were not treated with the respect and dignity that we all deserve.

I'm not sure why it still happens today, and I'm not sure how to make it all go away.

But what I can tell you is that Martin Luther King, Jr. built a legacy that is unrivaled, and all of us today would learn well from the lessons he taught about fighting for equality in a dignified and yet fiery way.

According to Wikipedia:

Martin Luther King Jr. (born Michael King Jr., January 15, 1929 – April 4, 1968) was an American Baptist minister and activist who was a leader in the African-American Civil Rights Movement. He is best known for his role in the advancement of civil rights using nonviolent civil disobedience based on his Christian beliefs.
King became a civil rights activist early in his career. He led the 1955 Montgomery bus boycott and helped found the Southern Christian Leadership Conference (SCLC) in 1957, serving as its first president. With the SCLC, King led an unsuccessful 1962 struggle against segregation in Albany, Georgia (the Albany Movement), and helped organize the 1963 nonviolent protests in Birmingham, Alabama. King also helped to organize the 1963 March on Washington, where he delivered his famous "I Have a Dream" speech. There, he established his reputation as one of the greatest orators in American history.
On October 14, 1964, King received the Nobel Peace Prize for combating racial inequality through nonviolent resistance. In 1965, he helped to organize the Selma to Montgomery marches, and the following year he and SCLC took the movement north to Chicago to work on segregated housing. In the final years of his life, King expanded his focus to include opposition towards poverty and the Vietnam War, alienating many of his liberal allies with a 1967 speech titled "Beyond Vietnam".
In 1968, King was planning a national occupation of Washington, D.C., to be called the Poor People's Campaign, when he was assassinated on April 4 in Memphis, Tennessee. His death was followed by riots in many U.S. cities.
King was posthumously awarded the Presidential Medal of Freedom and the Congressional Gold Medal. Martin Luther King Jr. Day was established as a holiday in numerous cities and states beginning in 1971, and as a U.S. federal holiday in 1986. Hundreds of streets in the U.S. have been renamed in his honor, and a county in Washington State was also renamed for him. The Martin Luther King Jr. Memorial on the National Mall in Washington, D.C., was dedicated in 2011.
Check out these inspiring quotes from Dr. King.

"Darkness cannot drive out darkness: only light can do that. Hate cannot drive out hate: only love can do that."
― Martin Luther King Jr., A Testament of Hope: The Essential Writings and Speeches
"I have decided to stick to love…Hate is too great a burden to bear."
― Martin Luther King Jr., A Testament of Hope: The Essential Writings and Speeches
"Faith is taking the first step even when you can't see the whole staircase."
"Our lives begin to end the day we become silent about things that matter."
― Martin Luther King Jr., I Have a Dream: Writings and Speeches That Changed the World
"In the end, we will remember not the words of our enemies, but the silence of our friends."
"If you can't fly then run, if you can't run then walk, if you can't walk then crawl, but whatever you do you have to keep moving forward."
"Let no man pull you so low as to hate him."
― Martin Luther King Jr., A Knock at Midnight: Inspiration from the Great Sermons of Reverend Martin Luther King, Jr.
"There comes a time when one must take a position that is neither safe, nor politic, nor popular, but he must take it because conscience tells him it is right."
― Martin Luther King Jr., A Testament of Hope: The Essential Writings and Speeches
"Nothing in the world is more dangerous than sincere ignorance and conscientious stupidity."
"The ultimate measure of a man is not where he stands in moments of comfort and convenience, but where he stands at times of challenge and controversy."
"Intelligence plus character-that is the goal of true education."
"We must come to see that the end we seek is a society at peace with itself, a society that can live with its conscience."
"Everybody can be great…because anybody can serve. You don't have to have a college degree to serve. You don't have to make your subject and verb agree to serve. You only need a heart full of grace. A soul generated by love."
"A man who won't die for something is not fit to live."
― Martin Luther King Jr., The Autobiography of Martin Luther King, Jr.
"No one really knows why they are alive until they know what they'd die for."
"Forgiveness is not an occasional act, it is a constant attitude."
"Injustice anywhere is a threat to justice everywhere."